Discover the best of the BVI with the savvy navvy boating app.
Author: Hannah Cotterell | Community Manager at the savvy navvy Boating App
Whether you're an adventurer, sun worshiper, scuba diving fantastic or simply love the freedom of being out on the water cruising with the sun on your face, one thing's for use, the British Virgin Islands caters to everyone in spades. 
Having spent the better part of my childhood living on a boat in the BVI, these islands and their crystal blue waters conjure up very fond memories and will forever be close to my heart.
If you're thinking of going cruising (whether sailboat, catamaran or motorboat) amongst these stunning islands, let's make sure you make the most of your time! Here I share my ideal BVI cruising itinerary that will have you cruising like a local and seeing the best the BVI has to offer, and that's a whole lot.
Within the itinerary I mention cruising times for each trip and also provide links to the routing however please note that times will vary depending on the weather and whether you use your engine or not – for more accurate timings I suggest you plot your own route with savvy navvy closer to your trip to get the most up to date information. 
Day 1: Tortola to Norman Island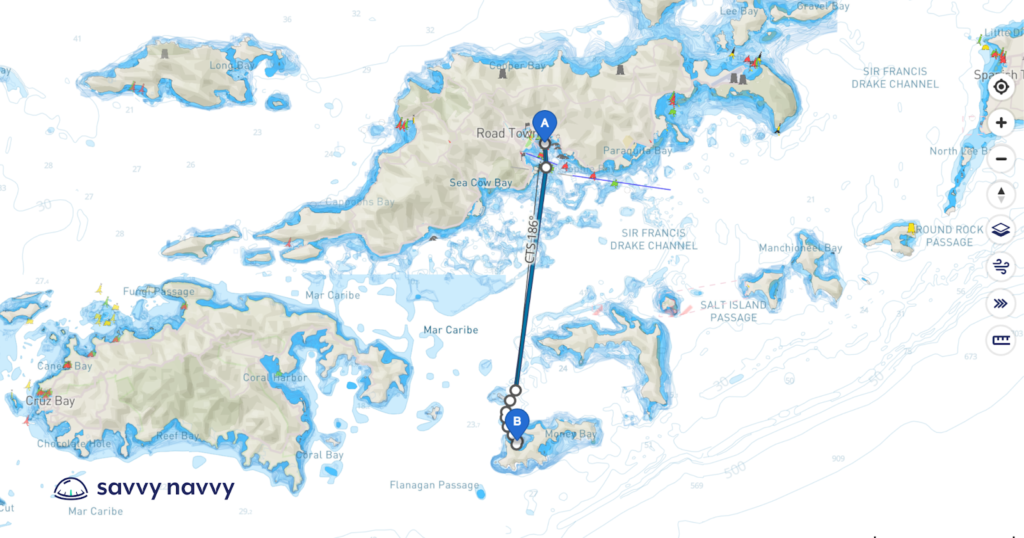 Cruising time: approximately 1 hour 15 minutes
It's day one and all the adventure is still ahead of you, hurrah! Let's start our journey by slipping lines out of Road Town and heading out into open water before bearing right for the anchorage in The Bight at Norman Island. 
Eat and Drink Like a Pirate on the Willy T
The Bight is a great first stop as it's a short trip that's ideal if you're getting used to a new cruising boat that you haven't used before, in addition, it is home to the legendary floating bar, the William Thornton – better known as Willy T! This long-standing and popular pirate ship is known for its party antics, unique ship style bar and fantastic food.
Discover for Lost Treasure
Norman Island is one of the most southerly islands of the British Virgin Islands archipelago and is rumoured to have been the inspiration behind the famous Robert Louis Stevenson novel, Treasure Island. It's considered to be the "real pirate island" as back in the 1750's pirates used the Virgin Islands as a place to unwind after their antics at sea as well as making use of it as a hiding place for their treasure. There are even documented records of pirate treasure being recovered from the island many years ago and according to local legend there is still a lot of treasure to be discovered, could that be you?
Day 2: Norman Island to Peter Island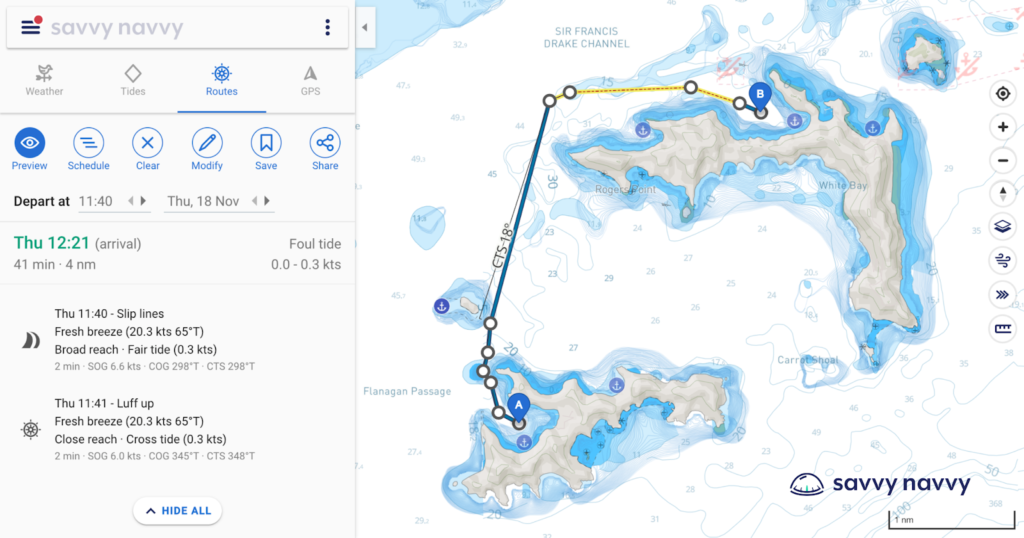 Cruising time: 1 hour
Let the island hopping begin. On day two why not sail from Norman Island to neighbouring Peter Island's, Great Harbour.
Peter Island is one of the largest privately-owned islands in the BVI and the fifth largest of the 60 islands. The island is largely uninhabited apart from the Peter Island Resort and Spa which at the time of writing this article is sadly undergoing repair work after the effects of hurricane damage. There are however a number of biking and hiking trails you can make the most of and the anchorages around the island provide a stunning location for snorkelling, swimming and cooking onboard.  
Day 3: Peter Island to Cooper island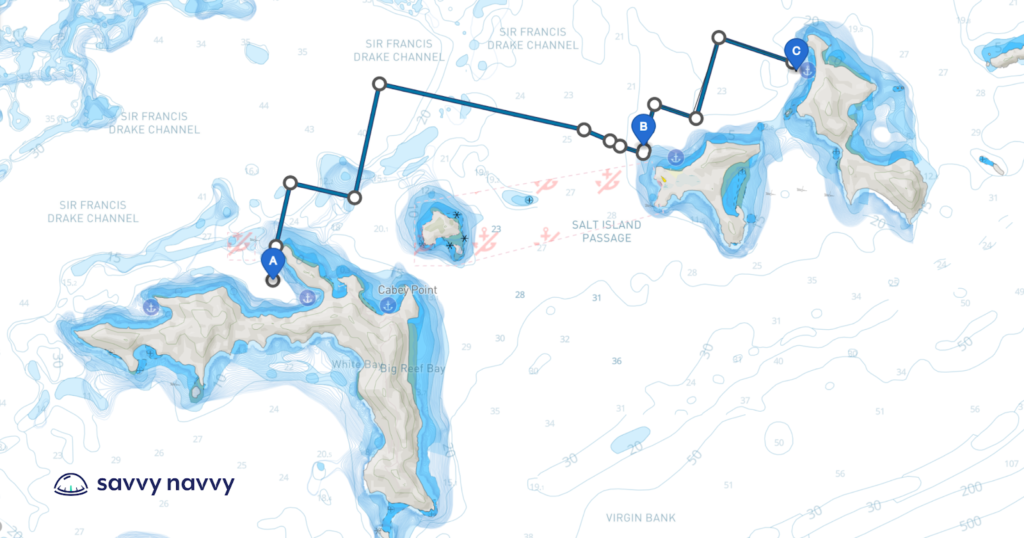 Cruising time: 1 hour 22 minutes
Now, this is one close to my heart as Cooper Island was one of the most common weekend playgrounds of my childhood. This sparsely populated small island features the Cooper Island Beach Club Eco Resort which is committed to supporting sustainable tourism in the BVI by generating 85% of their power from the sun as well as using solar power for hot water. 
If you're looking to get off the boat after the quiet secluded bays of Peter Island why not check out the beach club's sustainable microbrewery and have a taste of their six craft tap beers! You will also be helping out local farmers as the used grain from the brewery is then donated to goat farmers for feed. 
The island resort also features a beachside restaurant, coffee and rum bar with a collection of over 280 rums, argued to be the largest selection in the islands. 
Day 4: Cooper Island to Virgin Gorda
Take a day trip to The Baths before staying overnight at Leverick Bay Resort and Marina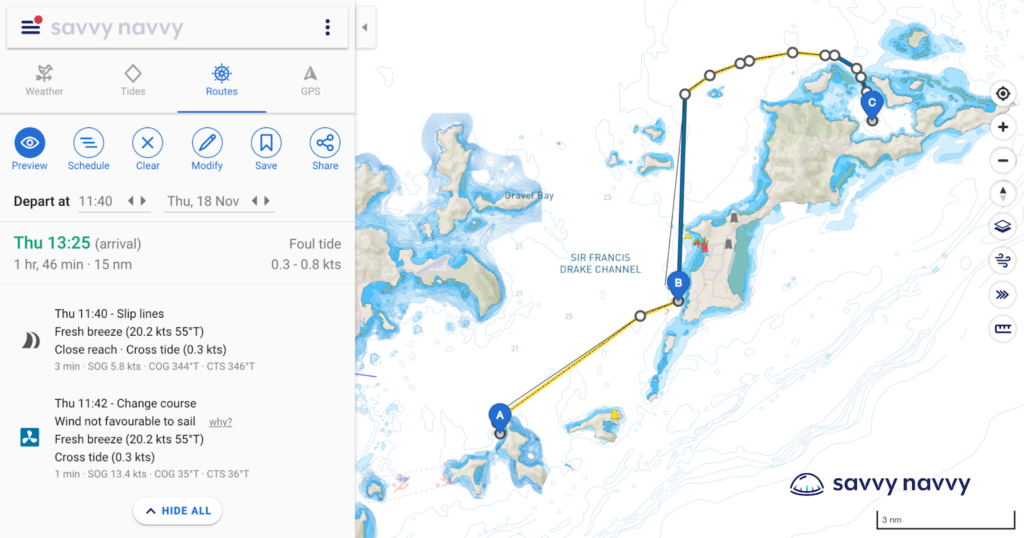 Total cruising time: 2 hours
The Baths, BVI
For this trip, we suggest dropping an additional waypoint to have a lunchtime pit stop at The Baths, one of Virgin Gorda's most popular attractions due to its unique geological features. The baths were formed by granite which eroded into piles of boulders on the beach. We recommend anchoring off Devil's Bay before heading ashore with rugged water shoes to explore the incredible tunnels, archways tidal pools and boulders that make up this unmissable National Park.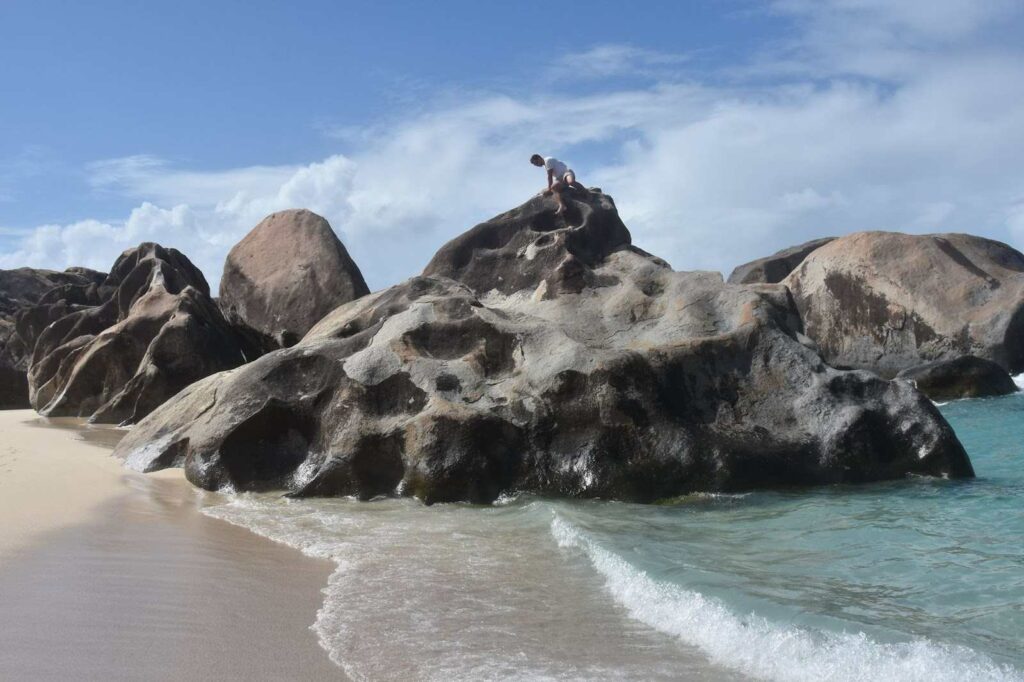 Leverick Bay
Roughly an hour and a half cruise from The Baths, Leverick Bay is the perfect next stop for an overnight stay with options to anchor, pick up a mooring or stay at a slip within the marina if you'd like a much needed shoreside shower.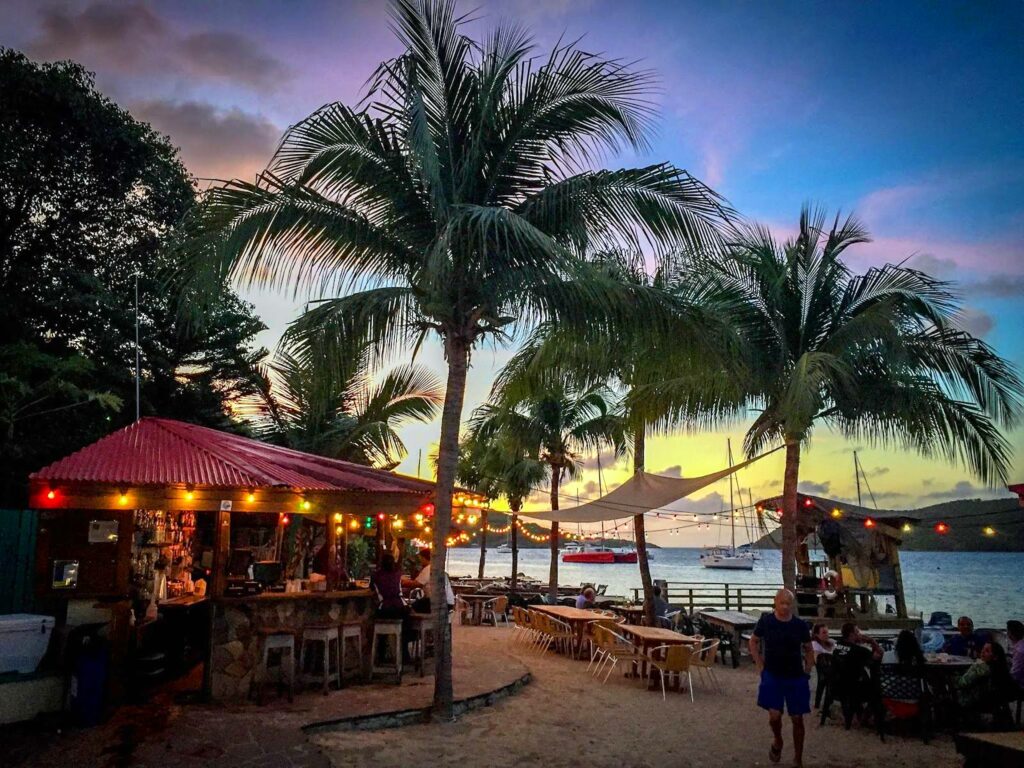 Tomorrow we plan to go to Anegada so Leverick Bay provides a great opportunity to stock up on food, dispose of garbage, fuel up and grab any other supplies before you go. There is also a lovely bar and restaurant, shops and a watersports centre to keep you entertained.
Day 5&6: Virgin Gorda to Anegada (2 days)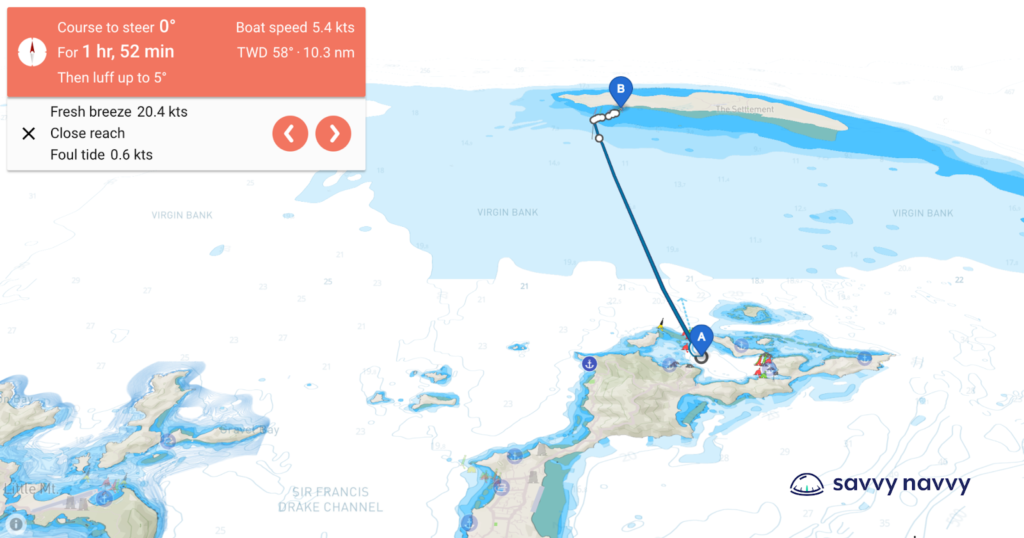 Cruising time: 2.5 hours
Although this is one of my favourite islands in the BVI this leg is only recommended for the more experienced cruisers as for the first time you will lose sight of land for this 2.5 hour trip, in addition, there is a channel reef that you will need to navigate through to get to the anchorage.
I consider Anegada to be one of the jewels of the BVI, it is a completely flat island made entirely of coral, that's right, it's a coral island! This means that when you're travelling towards it you often won't see it on the horizon until you're really close to arrival. As a result, Anegada is known for its pristine white-sand beaches, sparkling turquoise blue water and secluded beaches.
Once you arrive you can hop ashore to the Anegada Reef Hotel, another of my childhood favourites! This is a great place to have dinner, especially if you choose to feast on the local Spiney Lobster which the chef catches right on the beach and then cooks in an open fire BBQ right in front of you! They paste the lobster with garlic butter and it is simply amazing. On top of that order conch fritters for a starter and you will not be disappointed.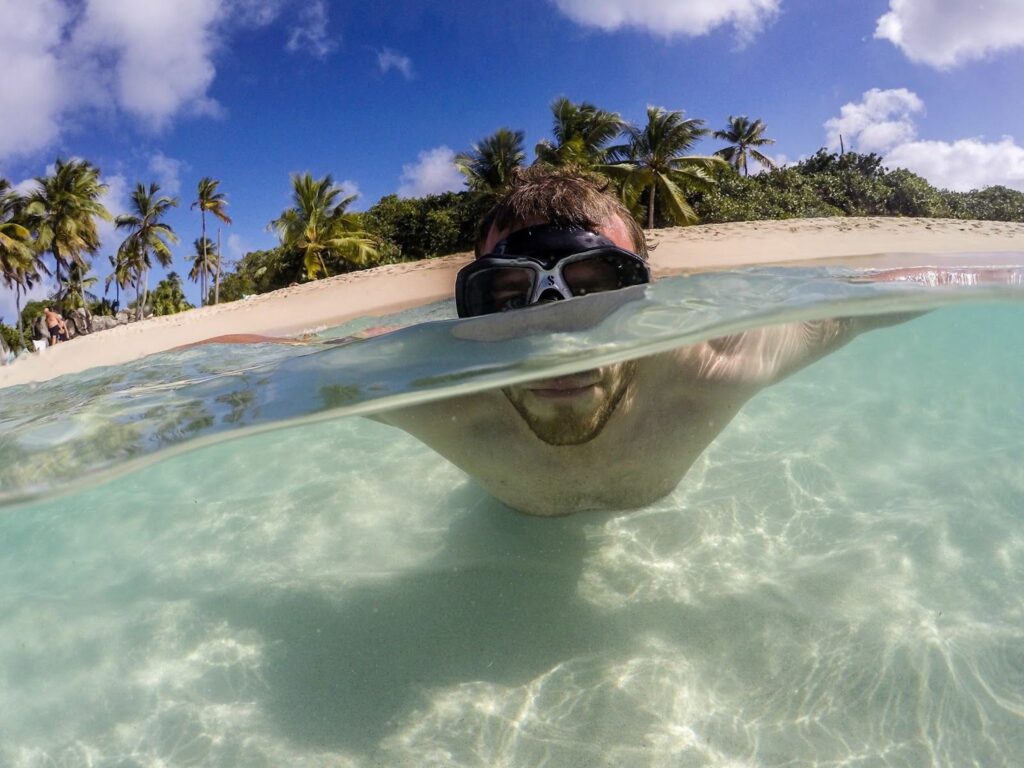 I have suggested leaving two days for Anegada as it is a true beauty and if you spend any less time I feel you would leave thinking you have missed out. The island is home to wild flamingos that live on the salt flats nestled on the coral island, when you head ashore there are open-air taxis willing to ferry you around the island so you can always ask to stop and see the flamingos on your way!
If you do choose to explore then I would recommend heading to Loblolly Bay or Cowreck Bay where you can pick a chair under a palm leaf umbrella or a hammock under the sea grape bushes and enjoy the view followed by a tasty lunch. The snorkelling on the island is simply fantastic. The taxi drivers are usually very accomodating, just give them a time to come back and collect you and you're sorted.
The island is also a favourite for bonefishing, known for being "fighter" fish. So if you're an avid fisherman or woman why not check out Danny's Bonefishing.
Day 7: Anegada to Jost Van Dyke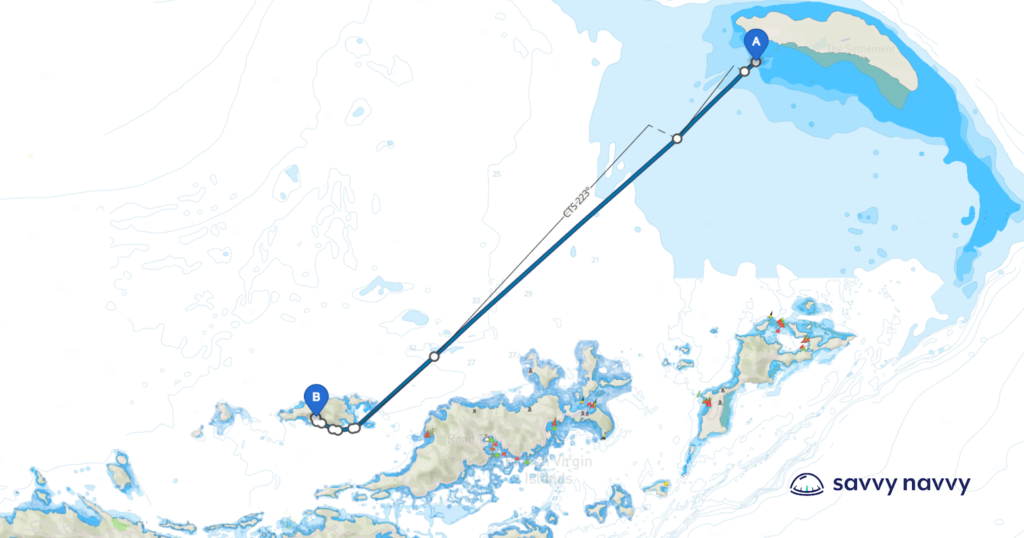 Cruising time: 5 hours
If you would rather have a shorter trip then you could always do Anegada back to Virgin Gorda, but I wanted to include Jost Van Dyke as it's a super fun way to end your holiday.
This is one of the larger islands in the BVI and it's known for its lovely anchorages, sheltered bays as well as a fun yet casual bar and restaurant scene. 
The Bubbly Pool
Jost Van Dyke's Bubbly Pool is located on the east end of the island and is only a short hike from the very popular Foxy's Bar. Once you get there you can relax in the natural pool as waves crash around you through small gaps in the cliffs, making a natural bubbly fizz! You can also climb up to the top of the hill to have one of the best chances to get a great photo with Tortola in the background. 
Foxy's Bar and Restaurant
After your hike and refreshing natural jacuzzi dip, why not head back to Foxy's, a fan favourite for boaters across the BVI. Foxy's has been serving food and strong rum drinks to sailors and visitors since 1968. Their BBQ's are famous and their shopping boutiques are sure to give you plenty to do!
Diving and water sports
Jost Van Dyke also hosts a range of water sports and diving companies, so if you're after more of an active stay on the island there will be plenty above and below water activities to keep you happy!
Day 8: Jost Van Dyke to Beef Island, Tortola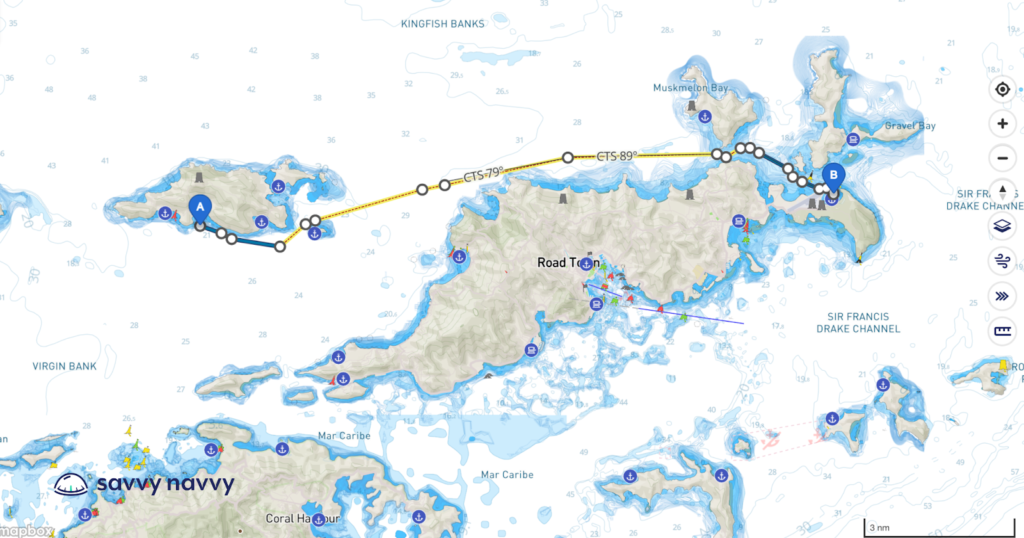 Cruising time: 1 hour 20 minutes
This is a good overnight stay before heading back to basecamp. Head over to Trellis Bay at Beef Island on Tortola and enjoy a Painkiller (the local rum cocktail) at the Loose Mongoose to enjoy your final day and reminisce over the adventures of the past week!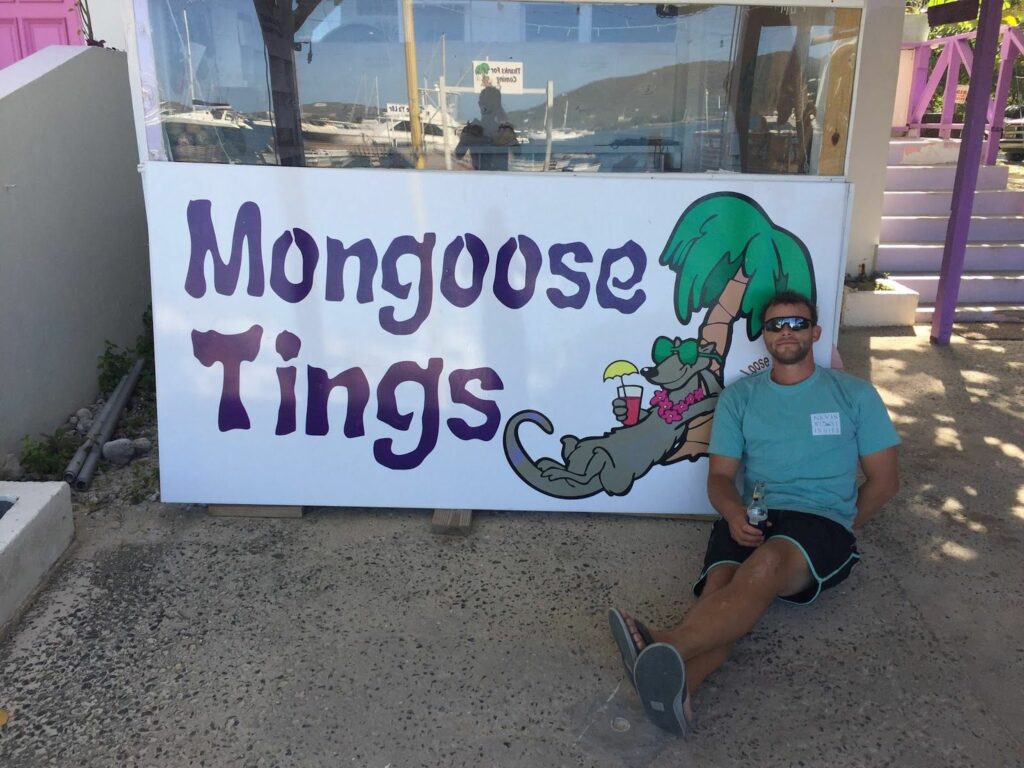 Trellis Bay's Bar and Grill also host a full moon party with a BBQ, so depending on when you arrive that could be one to look out for. The bay is near the airport so you might hear planes going overhead but it's a nice location with a casual vibe which is also a hop skip and a jump from returning your boat back in Road Town. 
Day 9: Hometime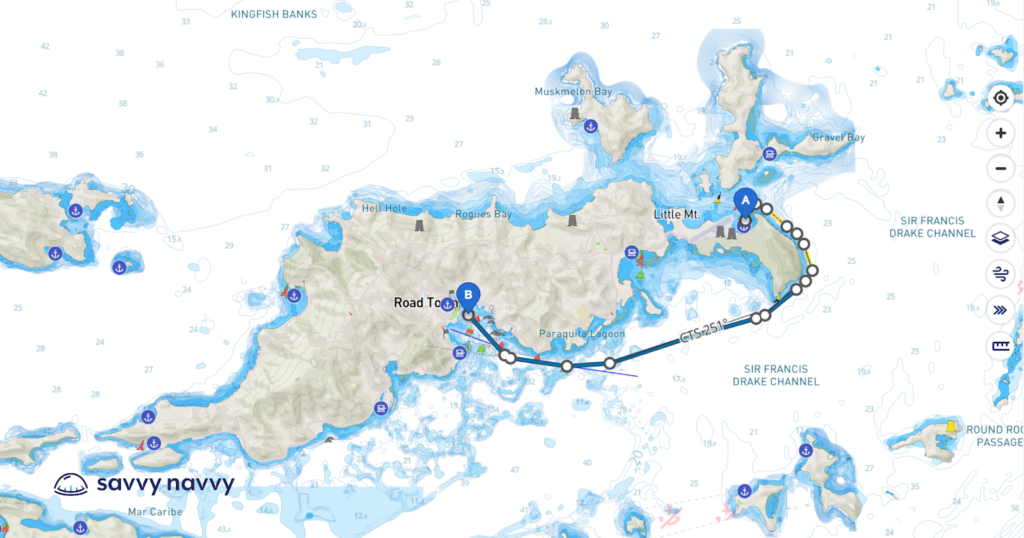 Cruising time: 1.5 hours
By staying in Trellis Bay the night before you're due to hand your boat back, depending on your handover time, this can make for a very chill end to your trip. On your final day, you can pull up the hook and take the 1.5-hour trip back to Road Town having enjoyed a last night of fun away from the marina. If you have an early handover time however it might be easier to go back into Road Town the night before and enjoy the array of bars and restaurants available there, I can highly recommend Pussers and their popular rum!
Planning your Trip
I hope this cruising guide gives you some good ideas for your next BVI adventure. If you'd like to make your own itinerary why not check out the savvy navvy boating app to start plotting routes between the islands! Available to download in your app store.