WHITMAN — As Al Pacino said in "The Godfather: Part 3" … "Just when I thought I was out, they pull me back in."
The Hingham High softball program has made a huge turnaround since Chuck Green decided to return to coaching, and the Harborwomen aren't looking to slow down.
In his first season with the Harborwomen, the team only won three games. Now in his fifth year, Hingham is 15-2 with both losses to fellow powerhouse Silver Lake. And with some young and hungry players on the roster, it's only the start.
"The Hingham program has come a long way in the last few years," said Green. "A big part is the commitment of the girls, a good group of girls that are hungry to play softball and it made a difference. And a commitment by the athletic director (Jim Quatromoni) to look for a coach who's willing to take kids, work them hard and build this thing back up."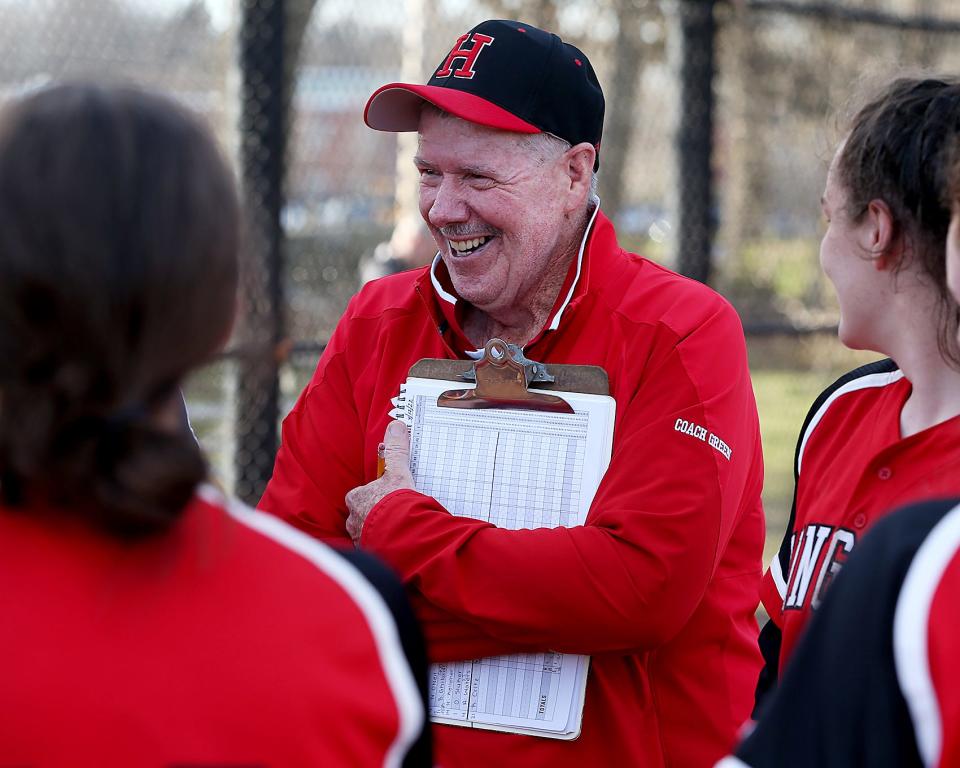 New-found success is old news for Green
Green, who previously coached at Carver and Randolph, isn't new to turning programs into success stories. In 1992 he led Carver to their first state title in any sport and he's won over 400 games in his career. Now he's doing something historic with the current group of girls he has.
And for Hingham, it's the first time ever they've seen this level of success.
More: Walk-offs, no-nos and grand slams: Vote for the High School Softball Player of the Week
"We're pretty excited. We've never been this good in history before, so we're just really excited to be where we are right now," said senior captain Sarah Holler. "We're taking it one game at a time. I want to make it past the first round of the playoffs. We've never been done before."
'Gutted out' win over feisty W-H team
As a unit, Hingham was especially proud after Friday's 7-3 win over Whitman-Hanson. Sophomore pitcher Bilyana Wilkin finished with 12 strikeouts, the final one ending the game to strand a runner on third base.
Wilkin has been pitching since the third grade after "trying every (other) position first," she said. Last year she saw playing time as a freshman. Now she's the Harborwomen's ace.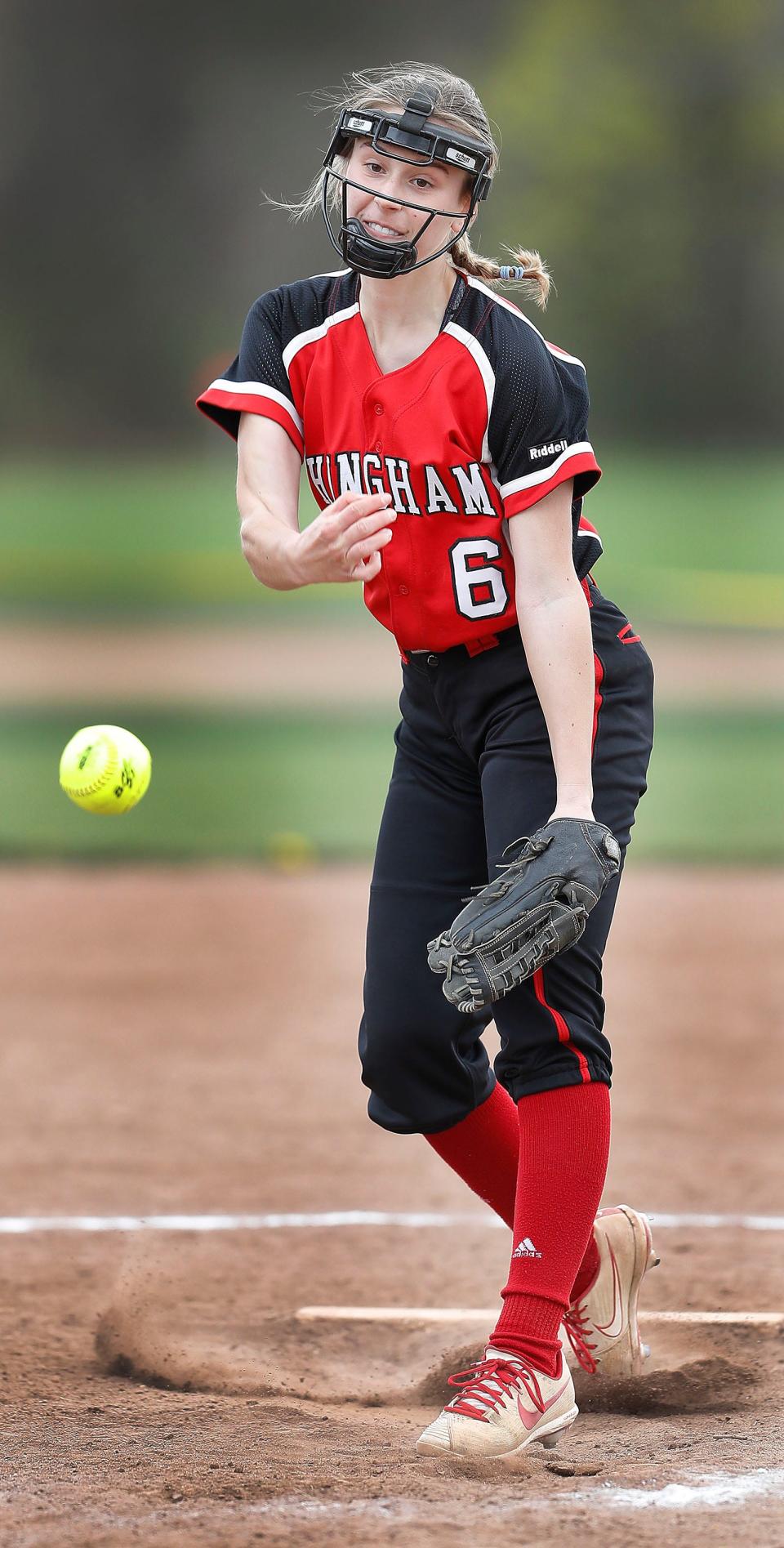 "She's been huge for us," Holler said. "If we're not having a good game hitting we can count on her to keep us in the game and it's been huge for us."
More: Sarah Holler's impact on Hingham High sports will resonate long after she graduates
Hingham was down three scores in the third inning when W-H freshman Victoria Sheehan blasted a three-run home run over the center-field fence to bring home Lauryn Meade and Makenna Kirschner. But the Harborwomen answered back.
Key play
With bases loaded in the fifth inning, Jess Mulrey drove a pitch to the left-field fence for a three-run double that knotted the game up at 3-3. It was the biggest momentum swing in the game.
"She's been amazing," Wilkin said of Mulrey. "She's always there for me, always when I need her the most, and is an amazing hitter."
Holler scored twice for Hingham, and Bella Sullivan, Abby Mercer, Kate Schute, Mulrey and Aradhana Sood also crossed the plate.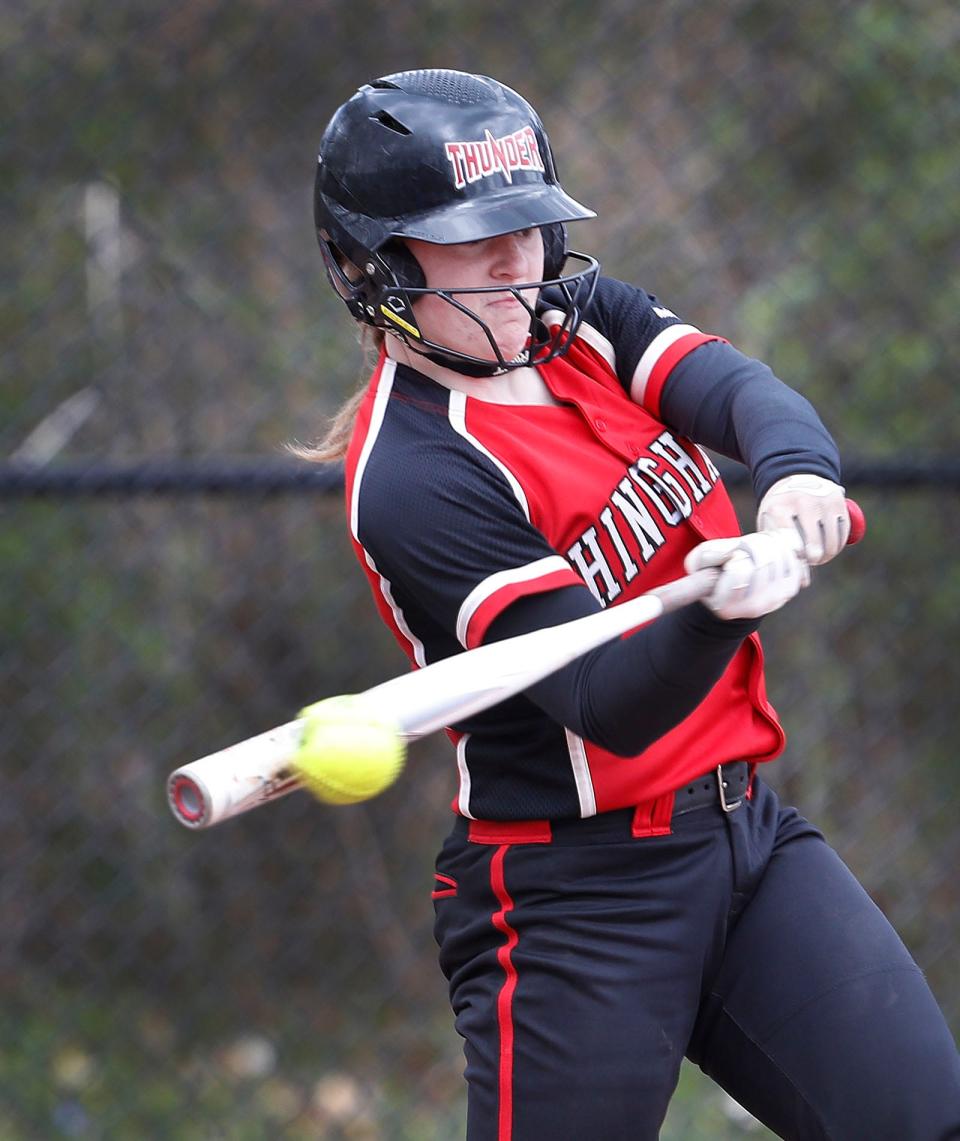 Hingham, which just a couple of seasons ago missed the playoffs, has won nine games by double-digit runs this season. This wasn't one of them, though, as Whitman-Hanson (7-10) put up a fight. Panthers pitcher Lauryn Meade pitched all seven innings and finished with five strikeouts.
"We've been winning pretty big on some teams, and I like this win because it's a different win for us," said Green. "We gutted it out. Their pitcher was tough. She really quieted our bats and mixed up her pitches real well."
Hingham entered Friday's game No. 17 in the MIAA Division 1 power rankings. They'll get a rematch against Whitman-Hanson on Monday on their home field. Despite being in the midst of what is shaping up to be an historic season, the Harborwomen aren't too worried about making school history. For them it's step-by-step for now.
"We're just staying focused and trying to get better every single day," Holler said, "because for our bigger goal, which is the tournament, we just want to make some noise."
This article originally appeared on The Patriot Ledger: Hingham High softball beats Whitman-Hanson 7-3