Today's the day. As I type this, both ISBJORN & ICEBEAR are at-sea…well, kinda. ICEBEAR, under skipper Sean Westoby, is at-sea for real, sailing north from Grenada towards USVI, while ISBJORN is on a short motor-boat right from BVI over to USVI having just be re-launched and commissioned on Friday at Nanny Cay Marina. They'll rendezvous in USVI and as early as this weekend, weather permitting, sail northbound for the Chesapeake and home waters of Annapolis!
You'll be able to track both boats in real-time on 59-north.com/tracking. And since we can't be there to sail, rest assured August, Mia & I will be hosting some live events looking at weather routing & strategy for the trip north, so stay tuned to our crowdcast.io/holdfast profile.
I just wish it were as easy as that sounded writing it. The past weeks have been spent trying to just decide IF we should attempt the move at all (or just haul-out and leave the boats south), and then HOW the heck to do it. If you're interested, here's the story of each below. If not, skim to the bottom for some important info on the possibility of salvaging some sailing in 2020.
---
ICEBEAR: Stuck in Grenada
Skipper Sean has been aboard the boat since Mia & I left from Guadaloupe way back in February, and while he did get to do some sailing to get down to Grenada in the first place, he's been more or less stuck onboard since mid-March at anchor off the south coast. (You SV Delos fans will know Sean from his trans-Atlantic onboard DELOS last year with Brady & Blue – we first met Sean on Brady's recommendation in Antigua in February.)
When we decided to try to move north, Sean couldn't get crew. Grenada remains in lockdown, so no flights are going out. Or more importantly, back in. Anybody who was willing to sail up to USVI with him wasn't willing to risk getting stuck there with no way back. It'd be a one-way trip. And to complicate matters, they'd all need to be American to get into USVI (Sean is South African but holds the right visas to enter on a boat).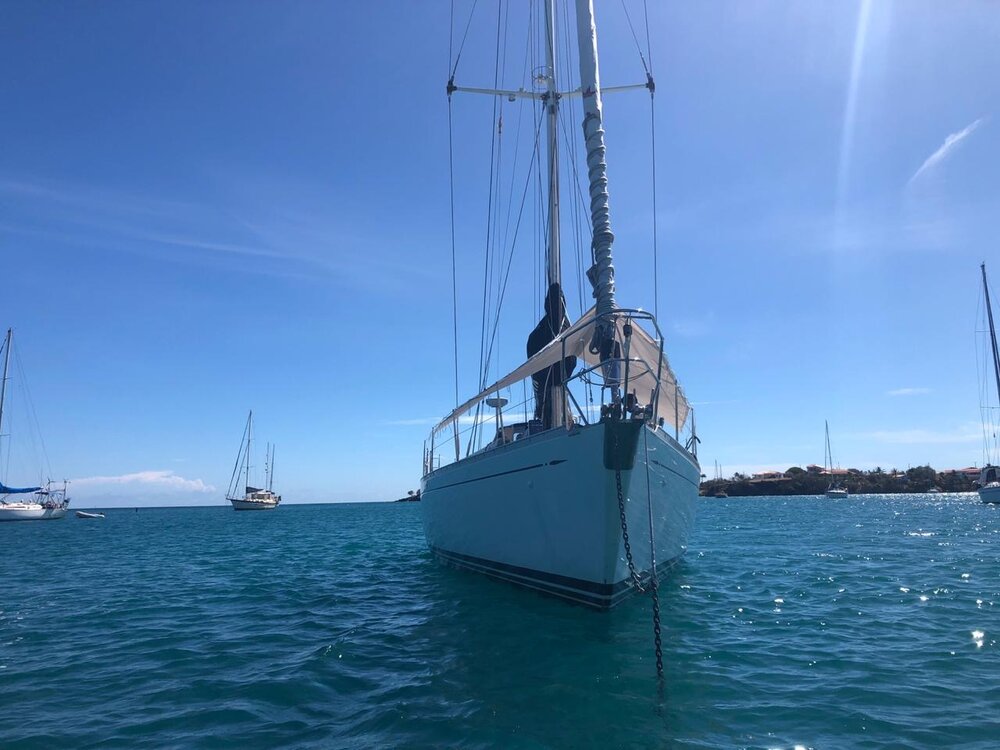 After a couple weeks, he finally managed to wrangle up a few pirates looking for a one-way adventure. One girl, Anastasia, a non-sailor, was at the medical school in Grenada looking for a way out, and volunteered right away. But Sean needed at least one other sailor to help him sail ICEBEAR's 62,000-pounds north. He could have, and would have, done it solo, but the way we like to talk about risk management, well, that wasn't really an option.
Finally, last week, he found not one but three willing sailors. Pete, owner of an Amel, re-scheduled his haulout to be able to leave earlier with Sean, but they'd have to stop off in St. Vincent to get another couple, Gary & Kathy. The authorities were helpful and agreed to let Sean do a quick-stop clear in/out in one go to pick them up. Gary & Kathy's story has to be told in their own words:
"We are very fortunate to have found a way back to a US territory. Kathy and I came to the Grenadines on March 12th for our honeymoon. We have an Island Packet 31 and plan to do some extensive cruising soon, so the first week we took an ASA 106 class with the Barefoot Sailing School out of St. Vincent. After the class, we spent a few days at a resort, after which the whole world seemed to close down. So, we decided to shelter in place and rented a boat (44′ Gib Sea) for the month of April and continued to sail around the Grenadines. Since that time, we have been land based on Bequia in an AirBNB. It has been an incredible honeymoon, but it is time to go home to attend to some business!"
They've been down there since March 12! That's one hell of a honeymoon, and one hell of an adventure to finish it!
So right now, Sean and the rag-tag ICEBEAR crew are about halfway between St. Vincent and USVI, sailing in light airs and expecting the wind to pickup again tomorrow around about the time they expect to arrive. ICEBEAR's mate Emma and her boyfriend Alex are already on-island and will do the sail north with Sean and a few others next week. Meanwhile, they are meeting ISBJORN today…
Track ICEBEAR's progress here or at 59-north.com/track-icebear.
---
ISBJORN: Quarantined in Tortola
Ironically, Sean is also the last of the 59 North team to have sailed on ISBJORN, having completed a private charter on her in early March with former offshore crew, then hauling her out and flying back to Grenada on what in hindsight was probably one of the last flights to the island! ISBJORN has been on the hard at Nanny Cay Marina since.
While the distance from BVI to USVI is clearly much shorter, the logistics were even tougher. BVI locked down their territory fairly early, and locked it down hard. My friend Ted, who has been instrumental in helping us get her out (and who is in fact meeting the boat on her arrival into USVI today) has been stuck OUTSIDE the territory himself since mid-March, separated from his wife and two kids who are INSIDE the BVI. Ted and his family – wife Claudia and kids Max & Anya – sailed to BVI about 7 or 8 years ago on their 43′ ketch and have been living onboard on the island ever since, working there and sending the kids to local school. They were in the process of bringing their new boat, HAPPINESS to the BVI when the border abruptly closed. So Ted's been stuck by himself in USVI, with his family in BVI and no way to meet. And to boot, Ted is a manager at Nanny Cay Marina! So he can't even get back to work.
By the way, Ted & Claudia's immaculate Wauquiez Amphitrite 43 ketch DEMETER is for sale if anyone is in the market 😉
So long story short, Ted knows everyone on both sides of the Virgin Islands and was quick to inform me that the BVI government started a program a few weeks ago to get boats out and to the USVI, using now-unemployed ferry captains who would run the boats over, drop them off, and powerboat back. It's not cheap – we're paying $1,500 plus customs fees – but it's the only way to move ISBJORN. Ted's son Max has been on man-on-the-ground at Nanny Cay, getting ISBJORN prepped for launch and showing the delivery crew around her systems this morning before departure.
As I write this, she has just left Nanny Cay marina and is underway on the short hop over to Red Hook where Ted will meet her with Emma & Alex, who just landed – check out our Instagram stories of their flight – and they'll take the boat to a marina near Red Hook. Emma & Alex will liveaboard and get ISBJORN shipshape while they wait for ICEBEAR, then later this week Ben Soofer (who runs our Facebook and newsletters) will fly down with Kristen Berry, our racing skipper, to bring the boat home.
---
Whew! That was a mouthful and we're not out of the woods yet. It's already been an active tropical season, with two named storms before June 1, so we'll have to be VERY careful in how we plan our weather routing, and already have a few contingencies in place if we can't make it. Worst-case scenario is we take the boats back to Grenada. We still have a reservation for a haulout spot paid up, and Grenada is typically below the hurricane belt, but still. North is better. Another option is to take the long way home, and skirt the Bahamas and then ride up the Gulf Stream. It's more miles but if a storm pops up en route, there are more places to duck in and hide. You can bet we're going to have another livestream about those decisions this week, so stay tuned to crowdcast.io/holdfast for that.
2020 Sailing? // 2021 Schedule
So this is a big IF, but IF this all goes well and we get the boats back home, and IF the COVID-19 restrictions ease further, there is still a chance at sailing some this summer and fall. We have ideas of running an Annapolis-Bermuda & back passage, without actually stopping anywhere, a round-DelMarVa trip or is Canada opens up, trips up to Lunenburg & back. But that's still all up the in the air.
If you'd be up for a passage like this, please email us to express your interest. You could transfer your deposit to a trip like this, or add it!
As for the current 2020 season, as explained we've kept the dates identical but pushed EVERYTHING back to 2021, including your deposits on passages. So right now, if you signed up for a trip in 2020, assume you are still on the crew list for that passage, but in 2021. We realize there will be somes changes to people's own schedules and we'll happily move people around where we can, just get in touch.
And obviously, to meet the 2021 schedule, both boats will need to be back in the Caribbean by spring of next year, which means at the least a trip south either this November, or worst-case spring 2021 (March/April).
That's it for now. I'll be in weather-routing mode this week once all our crew are safely on-island, and it'll be fun to at least be able to WATCH the boats sail in real-time. Emma & Ben will be keeping blogs of the passages and taking lots of photos, so be sure to check in on 59-north.com for the latest updates from them as we sail north!
Until next time,
HOLD FAST!
// Andy, Mia & Axel