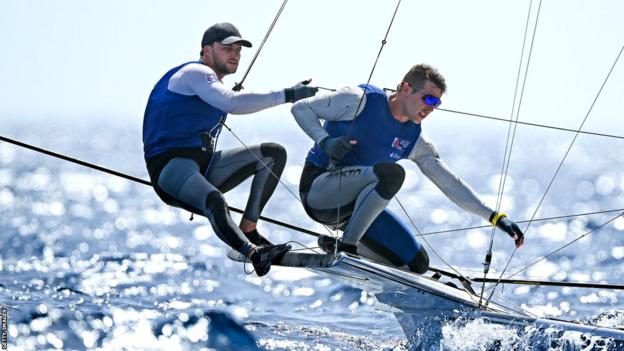 Fynn Sterritt and James Peters have realised their 10-year dream after being selected to represent Team GB at the Paris Olympics.
The 49er sailing duo finished sixth at the World Championships in August to cement Team GB's place in Paris.
After missing out on the 2020 Tokyo Olympics, Sterritt, 34, and Peters, 30, took time away from the sport.
"To get this second opportunity, it's pretty special and it's a dream come true," said Sterritt.
The 10 sailors that make up the squad are the first Team GB athletes to be selected for the Games which will be held from 26 July-11 August.
"It's something I've personally been dreaming about since I was about 12-years-old," Scotland's Sterritt told BBC Sport.
"James and I have been sailing together since 2014, so nearly 10 years. Both of us stopped after Tokyo so to come back as a pair and start that journey together means a lot."
No nation has won more Olympic gold medals in sailing than Great Britain's 31 as Peters looks to take advantage of the "Team GB machine".
"I don't think Team GB's success in the sailing is an added pressure," he said. "We see it more as we'll have the best support team behind us and I think that almost takes the pressure off.
"We're going to do our thing and the processes we've got, the support team we've got behind us, are going to enable us to perform in Marseille better than other nations.
"They'll be looking at us knowing that the Team GB machine is behind us. That to them will be quite daunting and we need to use that to our advantage."
The team includes Tokyo 2020 silver medallists John Gimson and Anna Burnet, and bronze medallist Emma Wilson, while 30-year-old Saskia Tidey returns for her third Olympics and is the team's most experienced sailor.
Tidey will race in the women's skiff class alongside 22-year-old Freya Black, who is the youngest sailor in the squad.
Newly crowned European champion Ellie Aldridge will take on the women's kite class, one of two sailing disciplines making their Olympics bow at Paris 2024.
Sailors selected for Paris 2024
John Gimson and Anna Burnet – Mixed Multihull (Nacra 17), James Peters and Fynn Sterritt – Men's Skiff (49er), Freya Black and Saskia Tidey – Women's Skiff (49erFX), Emma Wilson – Women's Windsurfing (iQFOiL), Sam Sills – Men's Windsurfing (iQFOiL), Ellie Aldridge – Women's Kite (Formula Kite), Michael Beckett – Men's Dinghy (ILCA 7).