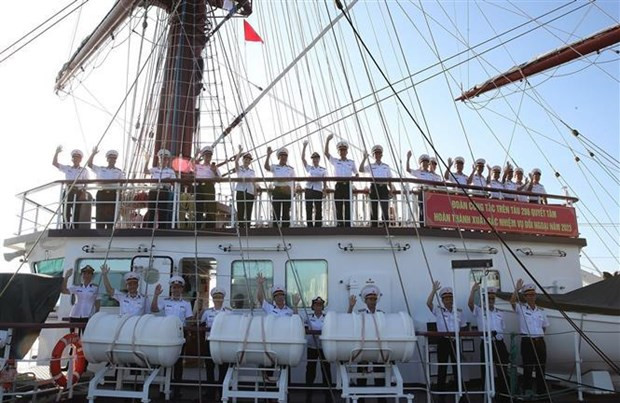 Sailing ship 286-Le Quy Don begins a friendly visit to Singapore. (Photo: VNA)
The visit is part of activities to celebrate the 50th founding anniversary of diplomatic relations (1973-2023) and the 10th anniversary of strategic partnership (2013-2023) between the two countries.
Senior Lieutenant Colonel Nicholas Tan, Deputy Director of the Maritime Warfare and Doctrine Institute (MWI) under the Singaporean Navy, chaired a welcome ceremony for the Vietnamese delegation, which is led by Deputy Political Commissar of the Vietnam Naval Academy Colonel Bui Duy Thong.
Tan expressed his hope that the visit would leave many good impressions on the delegation's members.
Thong said this is the second time sailing ship 286-Le Quy Don has visited Singapore, affirming that the trip offers a chance for the two countries' navies to exchange and strengthen cooperation.
During the journey starting on October 4  to Singapore, the delegation conducted anti-piracy arrangement drills in the waters bordering Vietnam and Malaysia. They also conducted long-distance navigation training, focusing on checking the status of equipment and weapons, enhancing command capability, combat readiness at sea, and reconnaissance.
As planned, the Vietnamese delegation will visit the Singapore Navy Command; host a party and musical event on board, engage in cultural and sports exchanges with the Singapore Navy, and tour historical and cultural landmarks in Singapore.
This trip aims to further enhance the friendship, cooperation, mutual understanding and trust between the military and naval forces of Vietnam and Singapore, and the two navies' ability to coordinate in addressing common maritime security challenges, serving the maintenance of peace, stability, cooperation, and development in the region. VNA