DETROIT (FOX 2) – The students of Western International High School may have come prepared for sailing the Detroit River in mid-September. They also may have been ready for hoisting sails, steering the ship, and learning about the wildlife in their backyard.
But nothing would prepare them for what they pulled out of the water. The associate director told them they were searching for plankton. But with Juliana Lisuk pulled up the long white tube-shaped net out of the water, it revealed a jellyfish.
"Woah!" Lisuk said. "That's honestly the first time I've seen that." Based on the gasps from the crowd of students, it was probably their first time too.
"Like honestly, I didn't know there was even jellyfish in this river," said Jose Ramierz, an 11th grade student.
Another girl named Jaretza called it beautiful. "And cute. And tiny," she said. A third student Googled how to say jellyfish in Spanish. "Oh, it's medusa."
It's a natural question for this group – most are Hispanic and speak Spanish. They would later get a close-up view of the alien-looking creature as it was placed in a microscope with its tentacles blown up on a TV screen. 
"Did you know, Plankton are actually a type of jellyfish?" one instructor told them.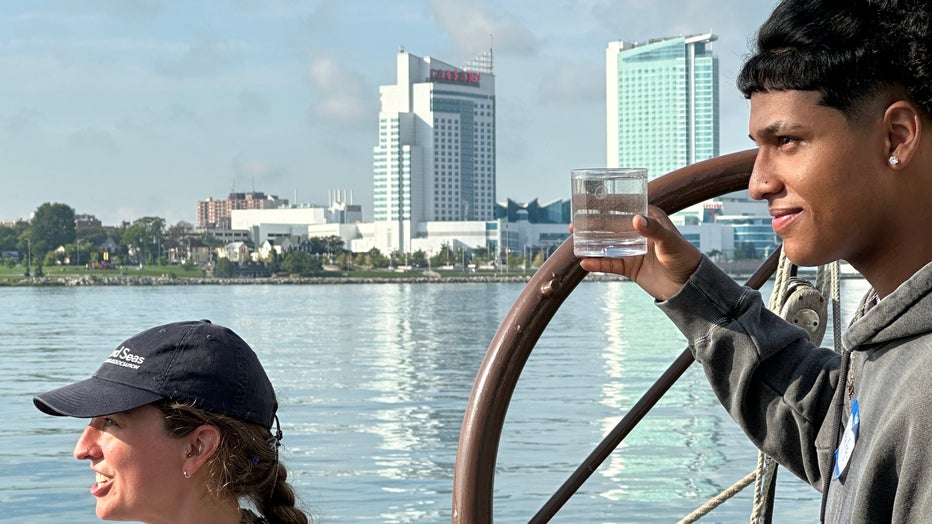 While searching for plankton, students from Western International High School found a jellyfish. 
For the students, they were getting a crash course in the basics of sailing and biology, how boats work, and the history of their home. For the crew aboard the Schooner Alliance and the instructors that embarked with them, their mission was something deeper.
"Look at this river. This is our home. Detroit is our home," said Yolanda Jack. "There is nobody that can claim this place more than you."
Speaking to six kids, Jack, or "Mama Yo" as she sometimes goes by, is hosting one of the workshops aboard the schooner. 
Jack is the manager of community engagement at the Charles H. Wright Museum of African American History. When people want someone to speak on the significance of home and what the city of Detroit means to them, they go to Jack.
"This is not some strange place. This is our place. And as soon as we recognize it, we can love it. And now that we love it, we can care for it, and make sure our children and our children's children's children have a beautiful river to come to and appreciate the beauty."
The schooner Alliance was purchased by the Inland Seas Education Association (ISEA) in 2022 to help service growing demand for their programming along the Great Lakes. They usually offer science lessons on the environment and wildlife to classes near their base of operations in Suttons Bay, which leads into Grand Traverse Bay.
But in Detroit, their mission is less science-heavy and geared more toward helping young people reconnect with their surroundings. If kids can get in touch with their home, they may focus more on fostering its growth and giving them a reason to care about its quality.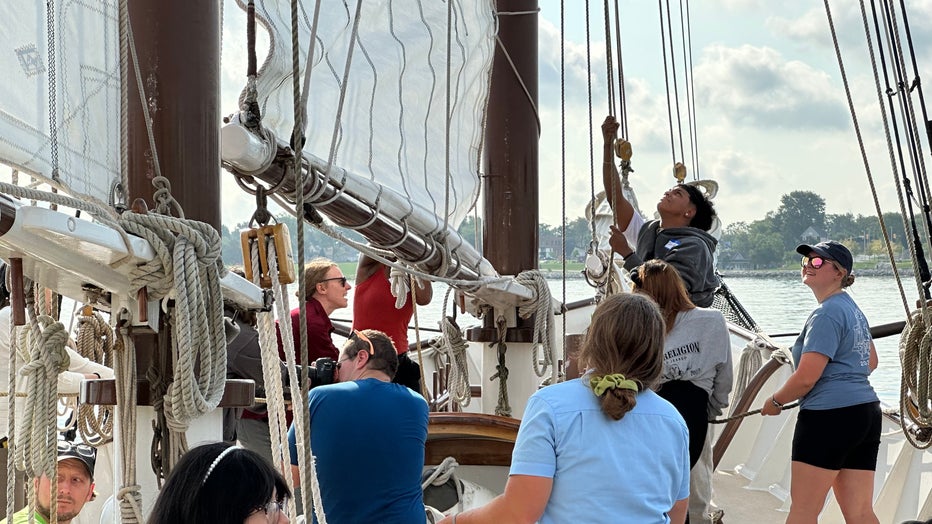 "It's all about exposure. You gotta expose kids," said Bruce Ross. "A lot of these kids don't get out of their neighborhood. Look at this resource here. You have a classroom right here."
Ross worked as the chief of field operations for the Department of Natural Resources before turning to helping kids in urban areas engage more with their natural environments. One way is working with the Detroit River Story Lab out of the University of Michigan, which has partnered with ISEA for days on the water like those on Sept. 11.
While growing up in Detroit, Ross says he was bullied in school. As an escape, he would spend time on Belle Isle. There 'the bees didn't threaten me, the trees didn't threaten me. I remember a deer even came up to be. I thought it was divine intervention, but I knew it was a connection."
The programming on board touched on wildlife comeback stories and how a 105-foot, three-masted, sailboat like the Alliance can float – lessons that other rides offered by ISEA would include. But to show kids how deep their roots go, the program's director David Porter says its storytellers like Jack that are needed to untangle the disconnect that's built up over decades.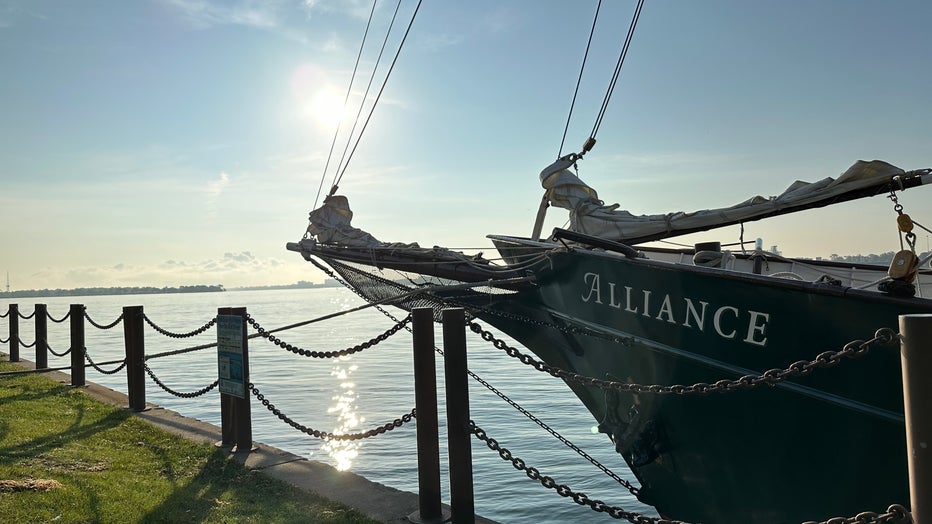 The schooner Alliance docked at Milliken State Park.
One story she tells is what the Detroit River meant to the Underground Railroad and the tens of thousands of self-emancipated slaves that gained freedom after they crossed it into Canada.
"You see that statue over there," she says, pointing to the Gateway to Freedom International Memorial. "That represents men and women who escaped enslavement seeking freedom. They knew if they got from here to there, they would be free. 
MORE: One of the world's most invasive plants was just found in Michigan
"The opportunity to take self-determination in your hands and learn something for yourself, learning that, connecting to the fact I met communities I never thought I would be exposed to, it all comes down to this river. The spirit is here."
A few minutes later, the schooner passed by another Detroit River landmark: the Ambassador Bridge, giving the visitors a vantage of the massive structure rarely seen.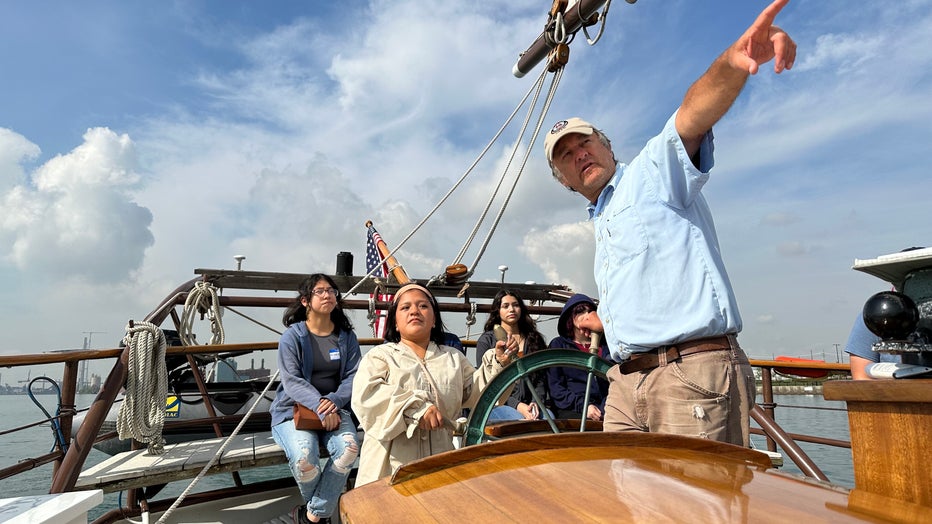 Maddeline Lopez takes direction from Capt. Ben Hale.
At the time, Maddeline Lopez had her hand on the helm of the ship; a classic steering wheel colored rusted green with the year 1995 embossed on its surface. Capt. Ben Hale, who has his own connection to the area with memories of sailing on the Boblo Boat, is guiding her.
Across the boat, Jose Ramierz wore a top hat and otter pelt as a scarf – symbols of the French fur trade from centuries ago. In today's era, they're more suitable for a selfie.
He raised his phone, pointed it at his face, and snapped a photo with a smile.