GlobeSailor had the pleasure of meeting the Gahinet family this summer on a stopover in Lorient after 9 months at sea with the family aboard their 47-foot catamaran Zaï-Zaï before they set sail again towards Baja California!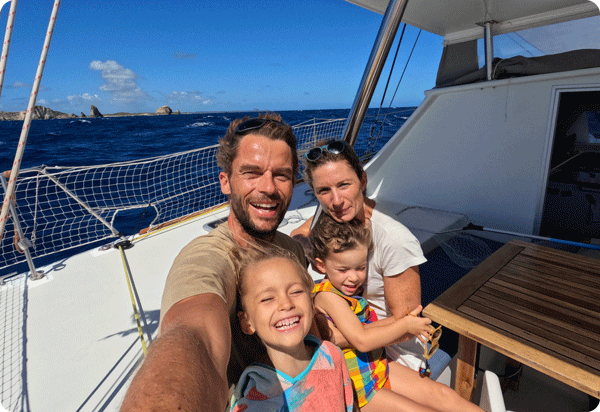 It's never easy to leave everything to go on an adventure, but even less so when it comes to sailing with young children, who sometimes don't even know how to swim yet! 
We wanted to ask Anne-Laure what her experiences were of the first months of navigation with her 2 daughters Julie 5 years old, and Cléo, 3 years old.  
Read on for Anne-Laure's advice for successfully setting sail with your children in complete safety.
Establish a framework and strict rules
To ensure a successful cruise with your children, think about a few precise rules and a framework that governs life on board, both for adults and children (just like at home, you might say!). "Even when friends and their children came aboard Zaï-Zaï, we maintained these rules and imposed them on all crew members."
"Our main rule was obviously for our girls to wear their life jackets at all times, on board the boat outside, and even on the pontoons. No matter the weather or sailing conditions."
For the youngest, under 17/20 kg, it's better for her to wear foam vests rather than inflatable ones. A safety net has also been installed all around the catamaran.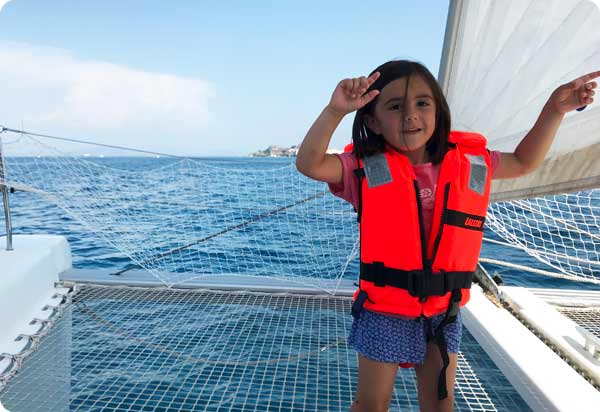 Obviously, these rules and the framework imposed depend on the age of your children and the boat. This framework also makes it possible to maintain a rhythm of life necessary for the children who need to know how the day is going to unfold.
Protection and safety on board
To protect themselves from the sun (they went to the Caribbean!), the Gahinet family and their little sailors opted for good sunglasses, but also Lycras, which are very practical to avoid having to reapply suncream all the time, and crocs for walking on land or at sea.
It is also essential to think about the risks inside the boat. For example, look out for hazards like a coffee (or the coffee pot!) that spills when heeling or during a manoeuvre.
"Fortunately, our children are even more agile than we are, and they get used to walking around without bumping into each other in the saloon, the cockpit and on the deck."
When we needed to execute a difficult manoeuvre that required our complete concentration without being distracted by the girls, we didn't hesitate to have them watch a cartoon in the bow of the boat. Rest assured that your children will be safe and sound while on board and not distracting the captain!
Finally, Anne-Laure recommends preparing a good and complete pharmacy, even if it means having your doctor prescribe some medication in advance. Also, make sure you know about the risks according to the destination where you will be sailing (e.g., jellyfish).
Life on board
Another vital mission on board is to prevent your children from getting bored!
Even though their cabin will be their home and they can spend hours there, plan activities to do at sea, games, exercise books or colouring books, and above all, try to get them to participate as much as possible in the daily life on board (manoeuvres, cooking, dishes, shopping, tidying up, etc.).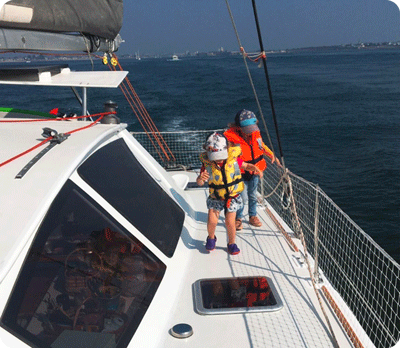 Don't forget to get a book with illustrations of seabirds, marine life or fish they might spot to whet their curiosity!
To get organized and keep some time for themselves, the Gahinet couple also set up a watch system. They have watches to take care of the children and watches to take care of the boat! 😊
Regarding seasickness, in case of bad conditions, Anne-Laure often prepares a big pasta salad for the day so that young and old can eat easily and have a stomach that is neither too full nor too empty!
For recipe ideas, check out our blog post recommending 5 easy recipes to cook on board.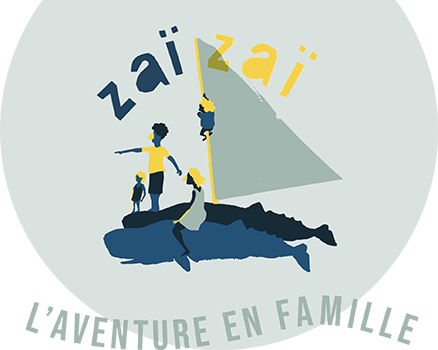 A big thank you to Anne-Laure and Gwénolé Gahinet for your precious advice!
You can follow their adventures on Instagram: @aventure.zaizai and on their website. You will even find some enlightening podcasts!