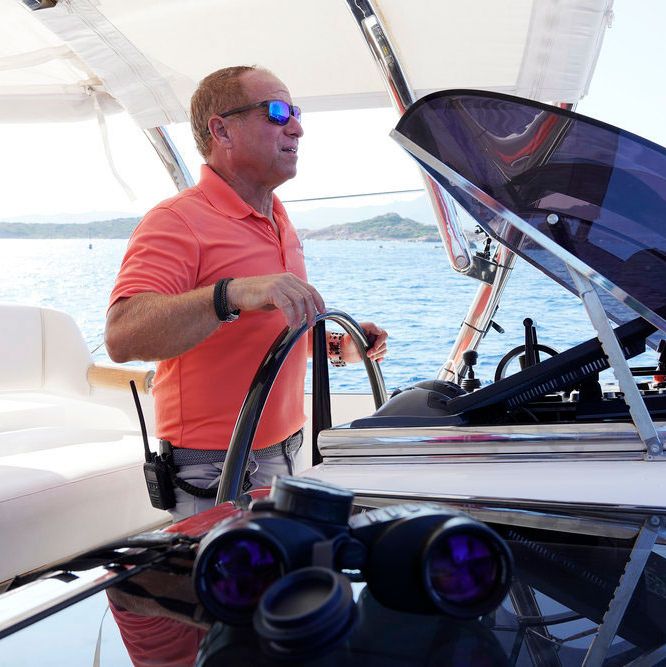 Photo: Bravo/Fred Jagueneau/Bravo
Gary's back, bitches!!! After two long weeks, he returned from war (quarantine) and finally graced us with his presence. This season has started off strong without him, but it's undeniable that Gary plays a huge part in the series' success. I'm fully prepared for it to reach greater levels of chaos now.
Let's rewind for a minute. Sailing Yacht is a comedy, and the first five minutes of this episode are proof. We open with the crew still partying, with Alex and Daisy having a heated makeout session that Daisy later regrets deeply. "I'm a redneck Southern guy, and this is crazy to me," Chase says about the evening. Is he aware that he's on a reality show?
Once everyone heads inside, things somehow get more hectic. Mads is puking in her bathroom while clumsy queen Lucy falls off her top bunk and badly injures herself. Daisy, despite the drunken state she's in, kicks into mama bear mode and puts the guardrail on Lucy's bed so she doesn't fall again (she also kindly lets Mads sleep in her bed). "I feel like this is a public service announcement: If you can't handle your alcohol, you shouldn't be picking the top bunk," she wisely says.
Alex, who is sharing a room with Captain Glenn, then delivers one of my favorite moments. After struggling to climb into his bunk, he accidentally hovers his metal water bottle directly in front of a sleeping Captain Glenn before hitting his head, prompting Captain Glenn to wake up and ask, "Dude, what's going on?" The subtitles perfectly translate Alex's slurred speaking as "orhitzs" and "itsmuhbud."
The next morning, Captain Glenn awakens to a beautiful sight: a text from Gary informing him of his impending return. Soon enough, we're greeted by a joyful Gary heading onto the dirty, trash-ridden boat. I think it's funny that he returns immediately after the first crew night out is over, but whatever. Captain Glenn asks Gary if it's safe to hug him, and he responds, "it's safe to give me a kiss, too!" I've missed him! "This boat is just not the same without Gary," Captain Glenn explains before comparing their relationship to an "old married couple."
Gary goes to the crew area and immediately hops into Colin's bed. I'm fully soaking up their BFF moments, knowing there might eventually be a rift between them. As Gary meets the newbies, Colin mentions that everyone is calling Alex "Fabio." Noted. Meanwhile, Lucy shows Chase her bloody injury from the brutal fall, and he helps patch it up. Gary's next stop is — pretends to be shocked — Daisy's bedroom, where they share a long hug. "It's really nice to see Daisy again," he says. "We've bumped heads; we've touched tongues. Hopefully this season we can pick up where we left off." I hope so, too!
Once everyone starts getting ready for the next charter, Captain Glenn and Colin test out the engine to see how far they can push it while avoiding more problems. The deckies help pick up anchor; it's their first major deckhand task, and they succeed. Alex thinks they're "set up for success" now that they have a boss. Let's not jump the gun, Fabio! Colin explains the importance of the boat not reaching hot temperatures because things can "bust" out of the engine. Ultimately, Colin is happy with the trial run, and Captain Glenn assures us that, while Colin's solution is only temporary, they can complete the season.
Gary's meeting with the deckhands about their tasks leads to the subject of the previous night's festivities. Chase says he doesn't want to "spread tea" but proceeds to anyway because, as Gary perfectly puts it, "it's all about the gossip." Chase shares that Alex made out with three girls, and Gary asks who the best kisser was. Alex says Daisy, which slightly shocks Gary. "It took me two and a half years to kiss Daisy. Good for him," he says in a confessional. Gary's clearly harboring feelings for Daisy, but he's got some serious competition this time.
It doesn't take long for the guys to start butting heads. After the boat docks, Chase begins explaining something about tying the ropes to Alex, and then Gary interjects to correct Chase's approach. Gary explains that, while the boys took the initiative through working the first charter alone, the only way to do things is "my fucking way, bitches!"
While chatting with Daisy, Gary mentions her makeout sesh with Alex and asks if she has a crush on him. "Opposites attract, I guess," he adds. I'm here for this jealous side of Gary! Lucy calls her dad, who she always turns to when she's hungover, and tells him she has the "worst anxiety ever" after her fall. His response is that she's one of the "worst drinkers I've ever met in my entire life." I wish I could give her a hug.
Before picking up the charter the next day, Daisy meets with the stews to reassure them they're doing a good job and not to take bad feedback to heart. "I'm definitely going to work my ass off. If Daisy asks me to do something, I'll happily help her," Lucy says. It's genuinely refreshing to see stews who haven't had any major struggles with their job and are open to improving.
The guests arrive shortly after provisions arrive and everyone makes sure the boat looks pristine. This group of six is already a palette cleanser from the previous unhinged charter. Once Captain Glenn welcomes them aboard and confirms that they'll be sailing later (yay!), Daisy gives them a tour. Ileisha makes some small plates while they head to sea, and the next thing we know, Captain Glenn is sailing. The boat starts heeling, which naturally sends everything flying around, from laundry products and food to all the doors. I don't understand why they just leave everything out when knowing this will happen! The guests are stunned by the sailing, calling it "so romantic." Colin says it's "surreal" to sail after the problems they had to overcome. It's as if it never even happened.
As Ileisha plans a five-course dinner, the primary, Kim, asks Captain Glenn if dinner could be family-style for the entire crew to eat with them. He thinks it's a "cool" and "unusual" request that he's never been asked before. Ileisha thinks the request is "crazy" but says she'll try to make it work. Does she really have a choice?
The tension between Gary and Chase grows in the deckhand garage area as they disagree about the water toys. Chase wants to bring out some toys that Gary doesn't, and he eventually pulls rank by telling Chase that he knows "exactly what we use" since he has more experience. Gary then calls Chase a "Mr. Know It All" behind his back and complains about him to Colin. Later, Gary yells at Chase for not properly cleaning the equipment in front of a guest, which Chase calls a "dick move." Although I'm also finding Chase's behavior annoying, I have to agree with him on this! We all know you shouldn't lash out near guests, and that's what Gary's doing. Two men with big egos is a recipe for disaster.
Now that Colin doesn't have much to do, Ileisha, who is understandably stressed about making enough food for the guests and her co-workers, enlists him as her sous chef. Colin asks if time management is one of her weaknesses, and she says she's "normally pretty good." Whatever helps you sleep at night!
When the primary first suggested that the crew join them for dinner, I immediately assumed the worst-case scenario. I'm glad I was wrong because it went off without a hitch (although, couldn't the guests serve themselves???). In a sweet moment, the guests express their genuine appreciation for the crew, a rare thing to hear in the Below Deck-verse. Colin then shares that, in his 15 years of yachting, this was his first time being invited to eat with guests and thanks them for treating them with respect. These chill and kind guests have been a breath of fresh air (so far, at least), and the crew deserves it.
We then get thrown back into reality with the continuation of the Gary/Chase feud. Chase checks on the hot tub and gets the water heated, but then Gary also checks on it and notices that the water is still cool, calling Chase out for it being filled with cold water. To add more salt to the wound, Captain Glenn tells Chase to clean some dirty deck parts. This was all pointless because the guests skipped the jacuzzi and went to bed early.
Chase takes over after Alex's night shift the following morning while Gary continues his shit-talking to Colin. Always the voice of reason, Colin says the best way to deal with someone like Chase is to "nip it in the bud." Captain Glenn again points out some areas that Chase needs to keep clean. "This situation I can't win," Chase says, pissed that he's being thrown under the bus by his bosses. I'm torn — on the one hand, he has been a hard worker, but on the other, he obviously has the desire to be in control. I have a feeling Chase's issues with Gary will only get worse from here, so I give it a few more episodes before he packs his bags and leaves.